Shopping Cart
Your Cart is Empty
There was an error with PayPal
Click here to try again
Thank you for your business!
You should be receiving an order confirmation from Paypal shortly.
Exit Shopping Cart
NIZHONI - Genuine Native American Jewellery & Crafts
PLEASE EMAIL FOR INTERNATIONAL POSTAGE
All the rain may be causing us problems out on the roads and not so nice to walk the dogs in but it is, as Diana Cooper says, a much needed environmental cleansing process.

The ritual of smudging can be defined as "spiritual house cleaning."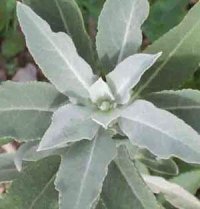 The types of herbage used for smudging are seen as sacred and can vary but White Sage (salvia apiana) is considered one of the best plants to use. It is interesting to note that Salvia comes from the Latin root salvare, which means "to heal".
Other herbs can be used such a sweetgrass also known as Buffalo grass and used for weaving baskets, lavender and cedar.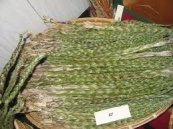 Sweetgrass is used to attract positive energies. Lavender is used for invoking peace and happiness with restful sleep. Cedar is for blessing and cleansing.
The herbs are wrapped into bundles or burned loose in dishes such as abalone dishes. The smoke is wafted around the person or space with feathers.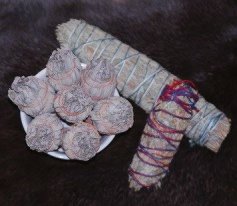 Nizhoni now has in Stock Mini Smudge Sticks of West Coast White Sage, Large blended Smudge Sticks with Desert Sage, Sweetgrass and Cedar and Mini Lavender Fields sticks with Lavender, Desert Sage and Cedar.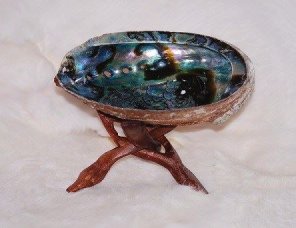 The Abalone shell dishes are large sized approx 6-7" and come with wooden tripods.
Click on the pictures and you will be taken to the Smudge Sticks we have on offer.
/